Maize Milling Plant-The Shortest Way From Corn To Flour
Henan Zhongyuan Roller Co., Ltd. can supply a complete grain flour mill plants from small scale to industrial scale. A flour line from Doroller is more than just some machines. It is complete with components for the whole process from raw material handling to flour packing. A flour plant from Doroller Group is equipped with the right equipment to get high-quality flour products from any raw materials with high possible yield but low possible investment.
We intend to supply complete, capable and cost-effective grain flour mill line, so our flour mill line is used in mills, bakeries, and regional communities around the world.

The Complete Maize Flour Production Line
The basic maize flour milling plant is a complete processing line with all the necessary machines and components for milling the maize into final grits and/or flour. But the plant can be extended with extra equipment to meet actual needs. Some existed building can be used for the layout, or the layout can be specially designed to minimize the plant building cost.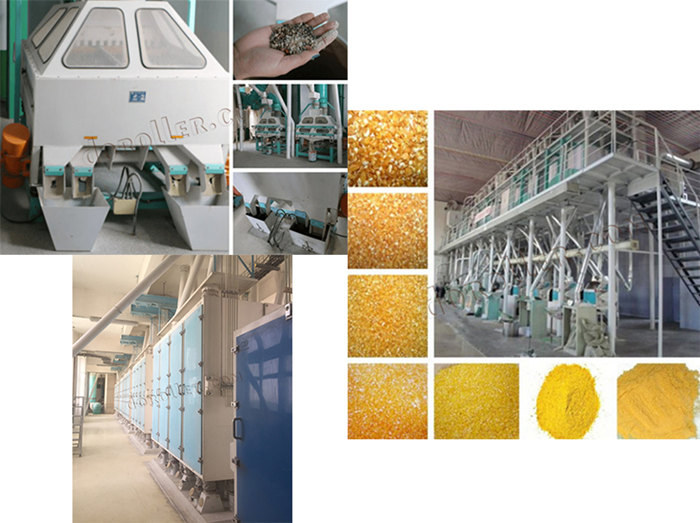 Corn Cleaning and Conditioning
The cleaning and conditioning of raw corn before milling is an essential and important process, and Doroller has all the equipment required for this purpose. And the range of cleaning and conditioning equipment includes:
- Corn cleaner
- Dust separating fan
- Destoner
- Humidity conditioner
-Conditioning silo
-Humidity conditioner for secondary damping

Maize Degermination
The Doroller maize milling plant is as standard supplied with a corn degerminator with the functions of degerminating and breaking maize kernel.

Corn Milling Process
There comes several models of maize milling machines. After every milling stage, the flour is sifted in multi-deck plansifters, in which grit, flour and bran are separated.

Maize Flour Conveying and Packing System
The flour is conveyed with using our transmission pipeline system and packed with our semi-automatic packaging machine that has a quantitative measuring.